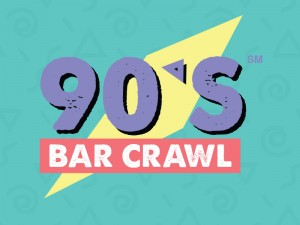 Remember AIM? Remember the Ninja Turtles? Remember when you were cool, back in the 90s? As if! We're giving you a chance to redeem yourself. Relive the glory days at the 90's Bar Crawl! Plus we have an exclusive HOT 106.1 Discount Code you can use for 20% off tickets!
Lace up your Jordans, slap on your bracelets and saddle up your Furbies. Let's take on Richmond, 90's style. The nation's largest 90's event will take place on Saturday, June 4th, 2016 in Richmond, Va.
Don't miss this opportunity to get jiggy wit it and belt your heart out to every song found on the first ten albums of NOW That's What I Call Music!
What you get:
– A signature bar crawl cup
– Drink specials at numerous Richmond bars
(Drink specials will end at 9 p.m. to comply with Virginia law)
– 90's music at participating establishments
– An amazing crowd of 90's kids celebrating the best of the 90's!
Participating bars:
– District 5 (Registration)
– Bellytimber Tavern
– City Dogs
– My Noodle Bar
– The Local Eatery & Pub
– Fan Noodle Bar
– Foo Dog
– Star-lite
– Home Sweet Home
– Buddy's Place
Specials:
District 5 (Registration)
-$3 Jim Beam Apple shots
-$5 Jungle Juice drinks
Bellytimber Tavern
City Dogs
-$2 Domestic Bottles
-$3 Jameson, Fireball, Goldschlager, Jäger, Rumpleminze
-$4 Rails
-$5 Orange Crushes
My Noodle Bar
-$2 PBR
-$3 Highball
-$4 Shooter
-$5 Cocktail
The Local Eatery & Pub
-$3 House highball or domestic beer
-$4 Craft bottle or draft, some exceptions
-$5 PBR bottle and a rail shot
Fan Noodle Bar
-$2 Old Tankard Ale
-$3 Rails and Shots
-$4 Shooter
-$5 Mojito
Foo Dog
-$2 16oz PBR's
-$3 12oz Founders all day IPA's in can
-$4 Highballs (Vodka tonic, Bourbon Ginger)
-$5 Vodka Red bull
City Dogs
-$2 Rail drinks
-$2 Bud Light/ Yuengling
Star-lite
Home Sweet Home
-$2 PBR
-$3 Rails
-$4 90's shooter
-$5 Red bull vodkas
Pricing:
Tickets will start at $20.00. Ticket prices will rise as the event date approaches, so get them sooner than later!
Registration Time:
2:00 p.m. – 6:00 p.m. All participants MUST register by 6:00 p.m. to gain access to specials and signature cup!