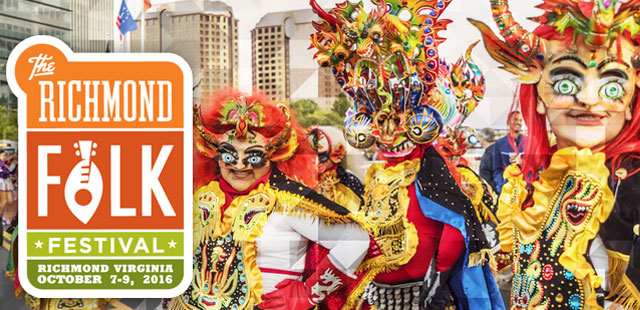 Last year this festival attracted more than 200,000 people to downtown Richmond's riverfront to celebrate the roots, richness and variety of American culture through music, dance traditional crafts, storytelling and food. The Richmond Folk Festival has become one of Virginia's largest and most-loved events of the year and has been voted as the best musical festival in Richmond several years running. The 2016 Festival will bring a new and similarly amazing list of performers, artists and exhibitors.
---
Hours of Operation:
Friday: 6 PM – 10:00 PM
Saturday: Noon – 9:30 PM
Sunday: Noon – 6:00 PM
---
Admission
The Richmond Folk Festival is a FREE event – you can enjoy the performances, the Union Bank & Trust/University of Richmond Virginia Folk Life Area & Stage, and the CarMax Family Area at no cost. Food, drink and merchandise are available for sale.
---
Bucket Brigade
Help keep the Richmond Folk Festival a FREE event! A group of community volunteers carrying orange buckets will be circulating the festival asking for your support. All donations made through the bucket brigade help directly cover the costs of the festival. Thank you in advance for your support!
---
NO Pets
DO NOT BRING PETS (other than service animals) to the festival. We expect very large crowds and your pets will be more comfortable at home.
---
FAQ: What can't I bring with me?
Items that are not permitted include, but are not limited to:
Pets (service animals are permitted)
Coolers, Large Backpacks
Alcohol
Bottles/glass containers
Contraband (drugs and weapons)
Laser pointers
Bikes, skateboards, inline skates
Flying objects (kites, Frisbees, footballs, etc.)