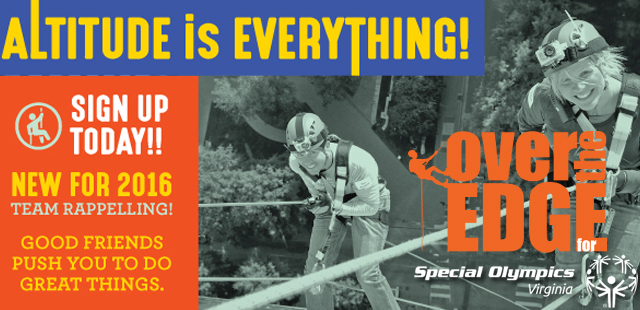 Throughout the year, fans of Special Olympics Virginia can be seen jumping into wintry oceans, pulling 164,000-pound cargo jets, running more than 1,900 miles with the Flame of Hope, or braving temperatures upwards of 100° at the mid-June Summer Games in Richmond. In short, it ain't easy to scare a Special Olympics supporter. Currently, Special Olympics Virginia hosts the coldest, the heaviest, the longest and the hottest community events in the Commonwealth and our fans keep coming back for more.
And now, we've added another superlative to Special Olympics' extreme calendar: Over the Edge – the tallest fundraiser our Commonwealth has ever seen. Join us in Richmond Oct. 15, 2016 to make a "towering" impact on the local community and touch thousands of people with intellectual disabilities.
You step to the edge, look over, and catch your breath. Adrenaline takes over and, next thing you know, the thrill of adventure consumes you. Welcome to Over the Edge — an adventure for the truest fans!
Find your place 400 feet above Cary Street!